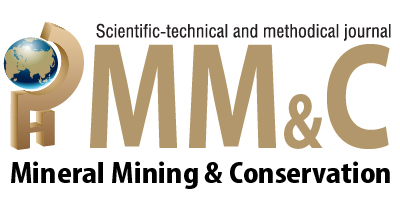 Subject Area:
A scientific, technical and methodological journal is addressing a wide range of aspects of underground resource management, including such issues as legal and regulatory frameworks and methodological support, economic strategy and innovation-driven development of the Russian mining industries. The Journal provides detailed coverage of efficient and comprehensive development of mineral deposits, high-level processing and conversion of minerals, development and application of novel geotechnologies and equipment, and industrial safety; discusses the environmental aspects of underground resource management; presents the analytics on mineral reserves and resources, mineral markets, and keeps the readership informed on the important industry events.
Our Readership:
Managers and leading experts of mining companies, R&D establishments, engineering, consulting companies and law firms, as well as businesses involved in underground resource management, scholars and researchers.
Circulation:
Print and digital subscription, exhibitions and shows, topical workshops and conferences. CCSMDD workshops and meetings (exclusive subscription), targeted mailing.
Headings:
News from the Rosnedra Central Committee for Solid Mineral Deposit Development: Exclusive on CCSMDD activities including the review, evaluation and approval of mineral deposit development planning and design documents; comments and advice from the CCSMDD members and leading experts of the VIMS Mining Project Evaluation Technique Department.
Economics, Geological Exploration of Underground Resources, Geotechnologies, Methodological Support, Industrial Safety, Environment, History of Underground Resource Management, Interviews, Information
Partnership:
Official journal of the Central Committee for Solid Mineral Deposit Development (Rosnedra CCSMDD) with the Federal Agency for Underground Resource Management
Media Partner of the Central Committee for Oil and Gas Field Development (Rosnedra CCOGFD) with the Federal Agency for Underground Resource Management
Media Partner of the largest exhibitions and forums in Russia and abroad.
Advertising Opportunities:
From 72 to 88 A4-pages, full-color, 5,000-copy print-run
} Advertising units (unique opportunities for the presentation of products, developments and services to a broad community of mining companies and other underground resource developers both on the Journal pages and at the Rosnedra CCSMDD regular workshops usually attended by at least 100 representatives of 50 to 55 companies and establishments.
} Partners' packages (packages ranks: for general, official, title, special partners and for a co-partner).
} Compilation and publication of articles based on Customers' data.
} Media sponsorship.
} Special Issue opportunities.
} Advertising at www.roninfo.ru
---
Page fraction size

Size for layouts with passive white space, mm

Bleed size, mm

Ruble price

1/4

85х125

–

4,000

1/3

180х80; 58х260

–

8,000

1/2

180х130; 85х260

190x140, 100x260

16,000

3/7

70x250

86&;275

10,000

2/7

46x245

61&;275

6,000

1/1

192x260

215x300

30,000

2/1

384x260

430x300

50,000

Contents page adds (right/left)

1/2

—

190x140, 100x260

25,000

Cover page adds

2nd spread

—

430x300

60,000

II cover page

—

215x300

45,000

III cover page

—

215x300

40,000

IV cover page

—

215x300

65,000